Big Oak Citgo Tire Store
Yardley | Morrisville | Lower Makefield | Fallsington | Fairless Hills | Levittown
No other maintenance service has choices like those facing customers needing tire replacement. There are countless brands, each providing countless options, and all will fit perfectly. It's easy if you go to the Firestone store, they'll tell you Firestone is the perfect tire. Just don't stop at the Goodyear store, or the Bridgestone store! So, what's the difference? That's where the pros at Big Oak Citgo can help. We have no brand loyalty, and are free to suggest the tire that fits your use perfectly. Our service advisers are familiar with the new trends in tire manufacture and tread design, and will ask the questions necessary to provide you with the prefect tire.
Big Oak Citgo has recently purchased a 4-wheel alignment system manufactured by Hunter Engineering. The Hawkeye elite wheel alignment system is the finest available, and is OEM equipment at many of the top new car manufacturers, such as BMW and Mercedes. Today's wheel alignment tolerances can be as fine as a 1/10 of a degree, and first class equipment is necessary to insure proper alignment. We have also recently purchased a state of the art Hunter Engineering Wheel balancing machine. This state of the art wheel balancer will insure a perfect, vibration free wheel balance, every time!
Do you have a company car or leased car or truck with a maintenance plan? Did you purchase an extended warranty? Big Oak Citgo deals with many warranty companies such as ARI, Element, Wheels, The Mechanic and others. If your company is not on our list, just call or bring in your warranty papers and we can take it from there! We're experts when it comes to dealing with the many twists and turns of extended warranty and maintenance plans, and we'll fight to ensure you receive all that your entitled to.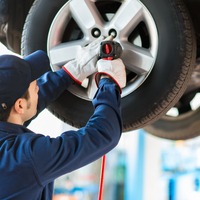 Our service advisers will help you make repair and maintenance decisions that fit your individual situation. Just as it's our mechanics job to repair cars, it's our service advisers job to solve customer problems. They take the time necessary to listen and understand your concerns, and make sure we deliver as promised. They are extremely knowledgeable in current maintenance and repair trends, and have access to the latest technical service bulletins and service advisories.
Early morning and late evening drop offs and pick-ups, half day appointments, wait appointments, Saturday appointments, and of course, emergency repairs are just some of the benefits of using Big Oak Citgo. We respect the value of your time and will provide you with auto repair solutions designed to make your car safe and reliable while protecting your budget.
Whether you're in Yardley, Fallsington, Lower Makefield, Fairless Hills, Morrisville, or Levittown, PA, call or stop in for an appointment today!